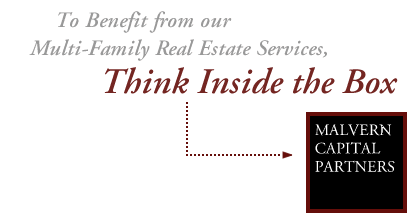 At Malvern Capital Partners, we have a defined focus:
To identify, evaluate, acquire and/or manage multi-family assets to provide investors with outstanding returns while preserving capital.
Malvern Capital Partners will execute its stated mission by:
Identifying, evaluating, underwriting, acquiring and managing multi-family projects in the Mid-Atlantic and New England marketplaces and specific unique markets throughout the U.S., and
Providing consulting services to owners, developers, lenders and other stakeholders in the multi-family marketplace.
To accomplish this task, we will monitor all facets of the multi-family industry, including demographics, development, construction, cap rates, interest rates, and equity requirements to continuously critique the current acquisition criteria and asset performance.
We will continue to develop and leverage the relationships formed over the past decade with multi-family experts in the capital market, development, construction, management and brokerage arenas to provide superior service to our clients.